Waterproof Application and Products for
Interiors, Walls, Basements and Other Surfaces
---
How To Waterproof, Coat and Seal Interior Projects
Protecting the foundation of your home is one of the most important investments you can make. Whether you home basement is used for storage or entertainment it has to protect what is most valuable to you. Ames basement waterproofing products will not only keep you safe, they will help save your precious valuables and save you money. This guide is meant as a general application process, your situation may vary. Ames wants to make sure you do it right the first time, please contact us if you need any help.
---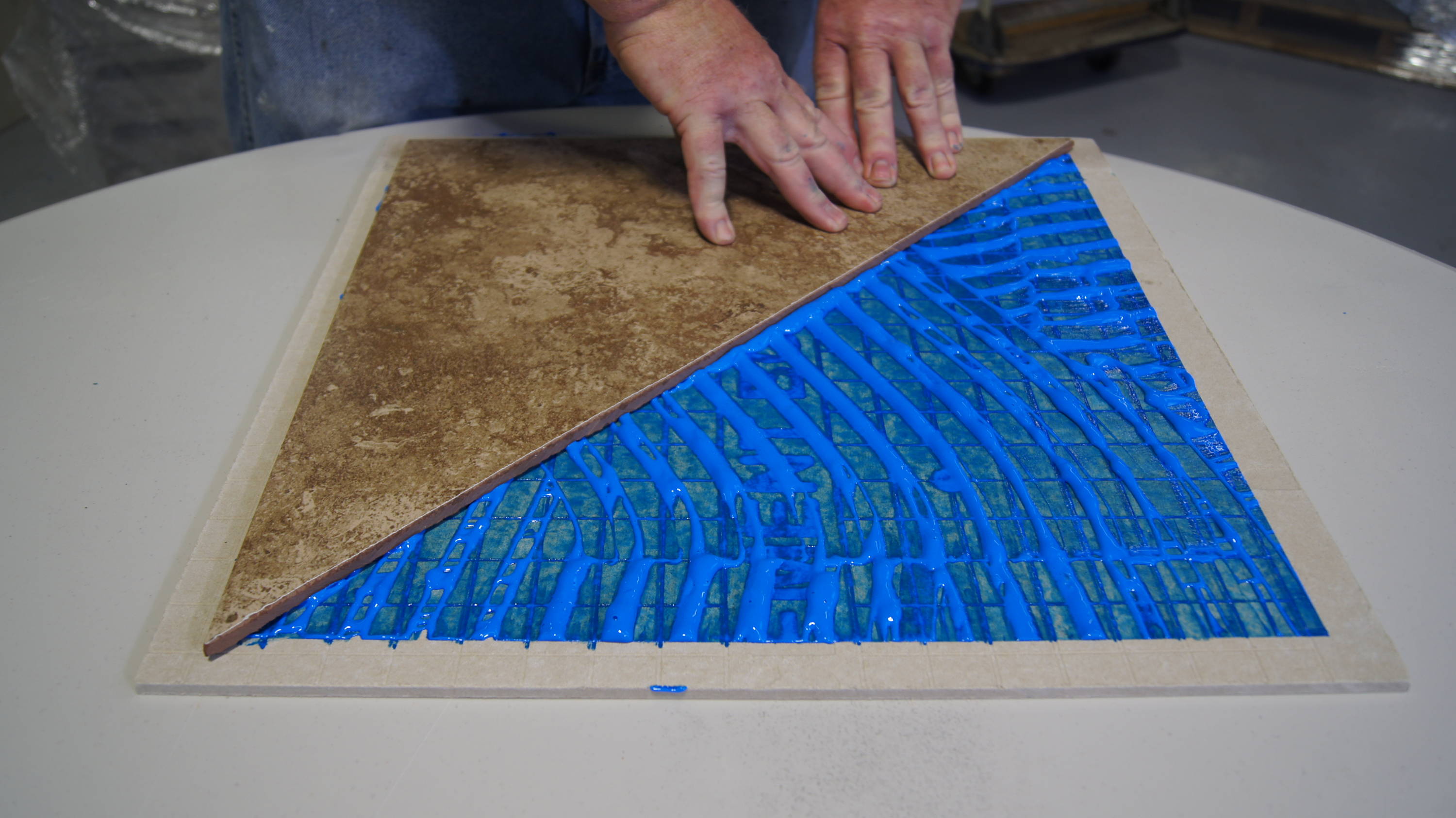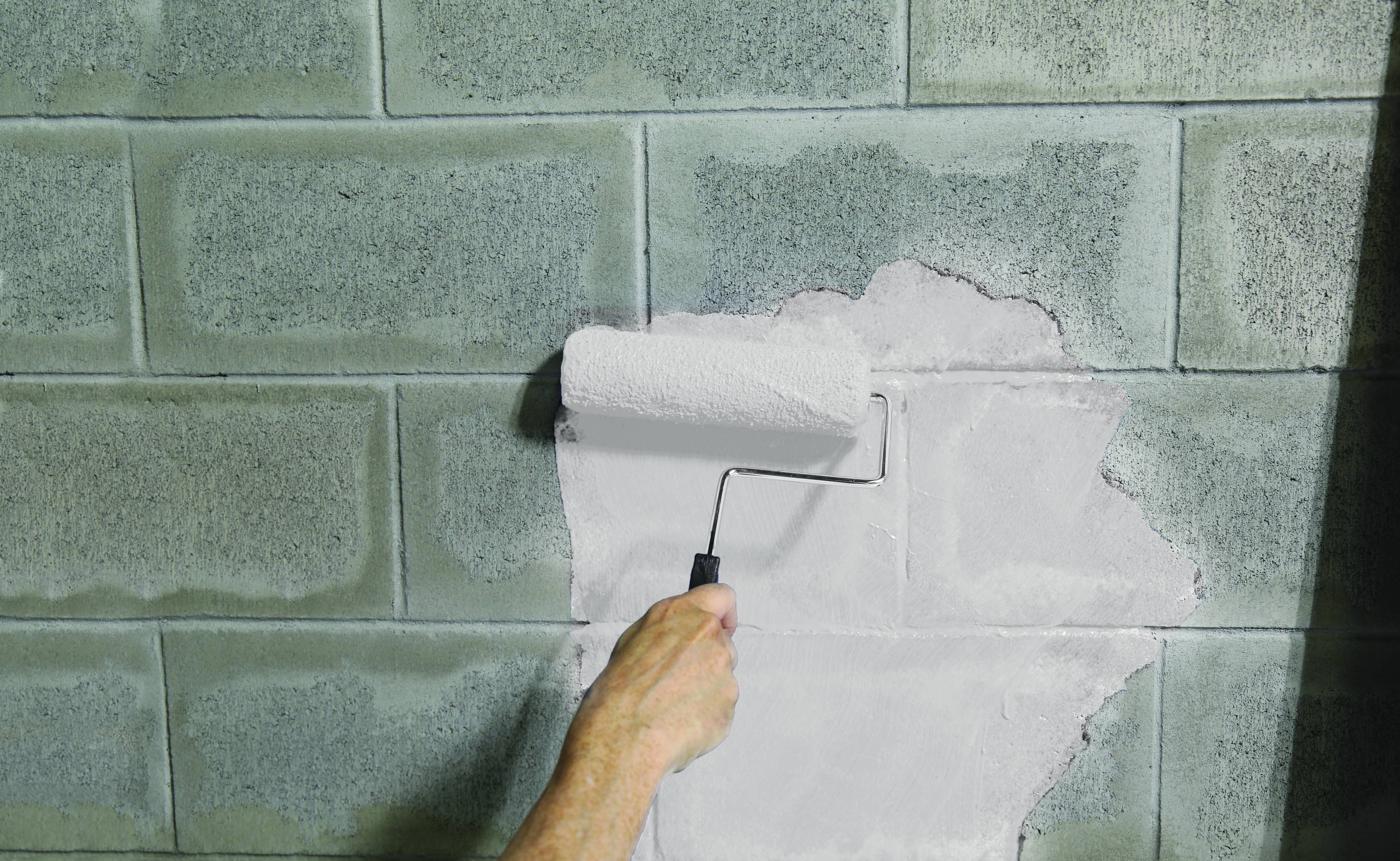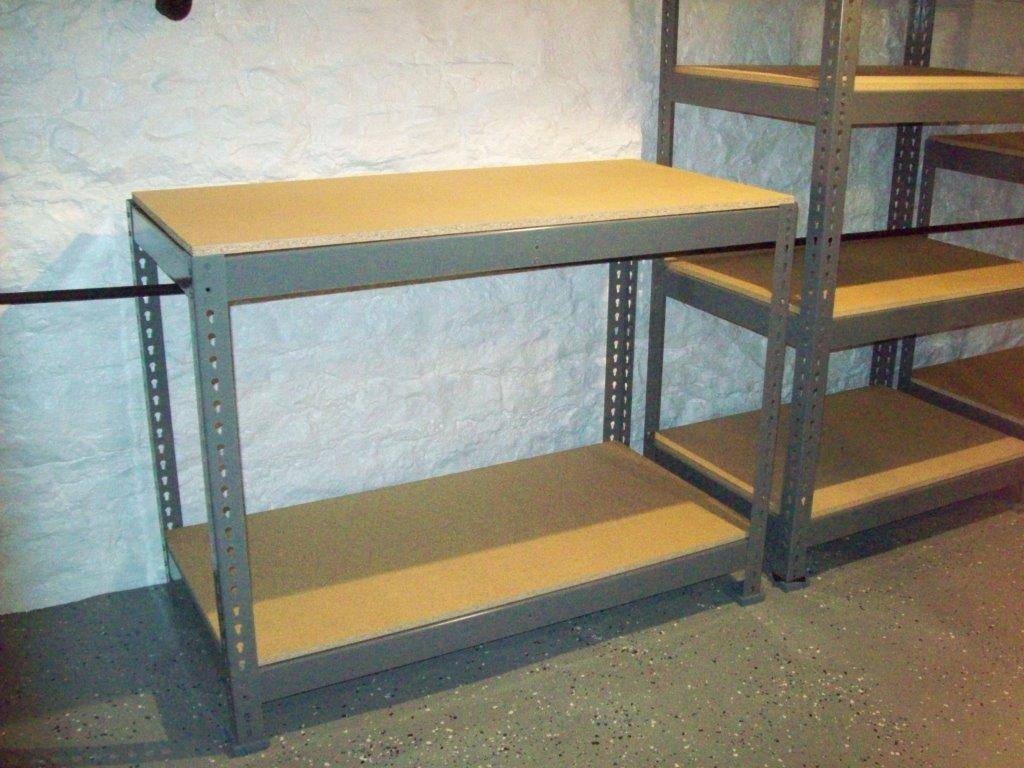 ---
Blue Max® Liquid Rubber Waterproofer is a water-based, strong and highly adhesive elastomeric coating & sealant with 1200% elongation that moves with the surface to resist cracking & peeling. Blue Max® is ideal for waterproofing above & below grade foundations, basements, roofs, floors & more.
---
PRE APPLICATION DETAIL WORK
A detailed inspection of the application area must be performed before beginning any work in the installation process. This can be done independently or with your contractor. Click on each stage beginning with Application Guidelines, and follow the proper steps to ensure that your project conditions and Ames installation guidelines match.
---
Initial Cleaning
Proper initial cleaning of your substrate includes removing dirt, contaminants, and debris from existing surfaces. All loose contaminants that could prohibit proper adhesion of the Ames Liquid Membrane to the substrate can normally be removed with a stiff bristle broom, vacuuming or other means unless the buildup is severe then a pressure washer may be required.

All surfaces must be sound and free from spalled areas, loose nails or screws, sharp protrusions or other matter that will hinder the adhesion or regularity of the membrane installation. The surface should also be free from frost, dirt, grease, oil, or other contaminants. Clean dust and dirt from the surface by brushing or wiping with a clean, dry cloth, brush, or broom.

Concrete should be cured in place a minimum of 7 Days. All surfaces need to be smooth, with sharp protrusions such as cold joints ground flush. Honeycomb and holes/cracks exceeding 1/8"and up to 5/8" across shall be filled with Blue Max Trowel and Caulk.
Inspection of Substrates
Inspect substrate for suitability to proceed with Ames Liquid Membrane.
If there are substrate issues, bring these issues to the project supervisor, architect, customer or Ames Research Laboratories tech services attention for recommendations.
Substrate Conditions - are specific to the type of surfaces you are working on. Incorrect conditions can cause installation deficiencies that could affect the performance of your waterproofing installation.
Inspect Substrates for:
Protruding or missing fasteners
Loose or broken backer board
Excessive gaps between backer board panels
Excessive gaps at intersections of backer board to other adjacent items
Excessive gaps at cutouts for water pipes, shower heads
Rough, sharp ridges in mortar sloping material
Dried crumbs of mortar slag on the surface of the shower base.
Mortar blocking mounting holes between drain base and clamping ring
Presence of mold or mildew on walls or sheathing due to extended exposure to the elements or other pre-existing conditions.
Wood moisture content – at or below 20% as tested at core of substrate. This will typically be a consideration when the floor sheathing has been properly pre-sloped and is the intended substrate for the Ames Waterproofing Membrane.
For remodeling projects, all types of existing substrates being protected with Ames Liquid Membrane Waterproofing need to be inspected for any possible need to repair or replace before proceeding with new applications.
Structural and environmental integrity is important in the underlying material as it will become a base for the new Ames Waterproofing System. An example of when aged and deteriorated substrates may be encountered could be when an aged existing shower or tub is being removed and a tile system is being installed.
Ames Research Laboratories, Inc. recommends that these application suggestions be used as a guideline for applying Ames' products. Please remember these are only suggestions.
Product durability depends upon surface preparation and sufficient material usage for thickness.
Read all instructions on the label before beginning.
Always run a test patch first in an inconspicuous area to ensure that proper adhesion and drying occurs with your product and that the product works to your satisfaction before proceeding.
Do not proceed unless you are satisfied.
For product information or technical assistance, call 1-888-345-0809 or contact us via email.
Weather & Drying Guidelines
As with all roof coatings, coordinate schedule to apply materials prior to high heat of the day. Best temperature range for application is 50º to 90ºF (10º to 32ºC) When working in hotter temperatures apply in smaller areas to maintain control of the wet material during application. • Recommended minimum temperature of 40 ºF (5 ºC) and rising before applying.
Plan application to avoid inclement weather for 24 hours after application in cooler climates or if rain is predicted.
Dry times are dependent upon the thickness of application, humidity, and weather. Product should be dried and cured after 24 hours. Low temperature, high humidity, and morning dew (condensation) can delay start times and increase drying and curing times. Always test the roof after initial cure to determine if cooler temperatures and high humidity may have slowed down the drying time before walking on the roof or beginning a second coat.

Concrete Masonry Unit (CMU)

Mortar joints shall be struck flush and shall be free of voids exceeding 1/8" across. Mortar droppings shall be removed from brick ties and all other surfaces accepting Blue Max Liquid Rubber Waterproofer Membrane and accessories. Allow mortar joints to dry a minimum of three days prior to application of the Blue Max® and accessories. the exposure duration or exposure conditions as required by the concrete manufacturer.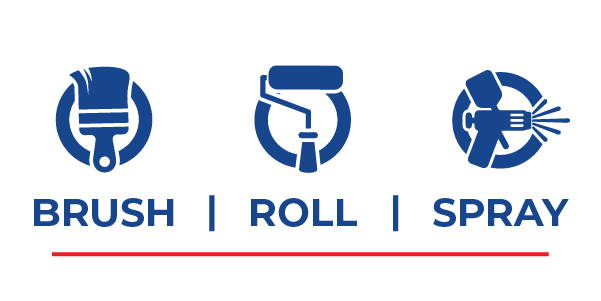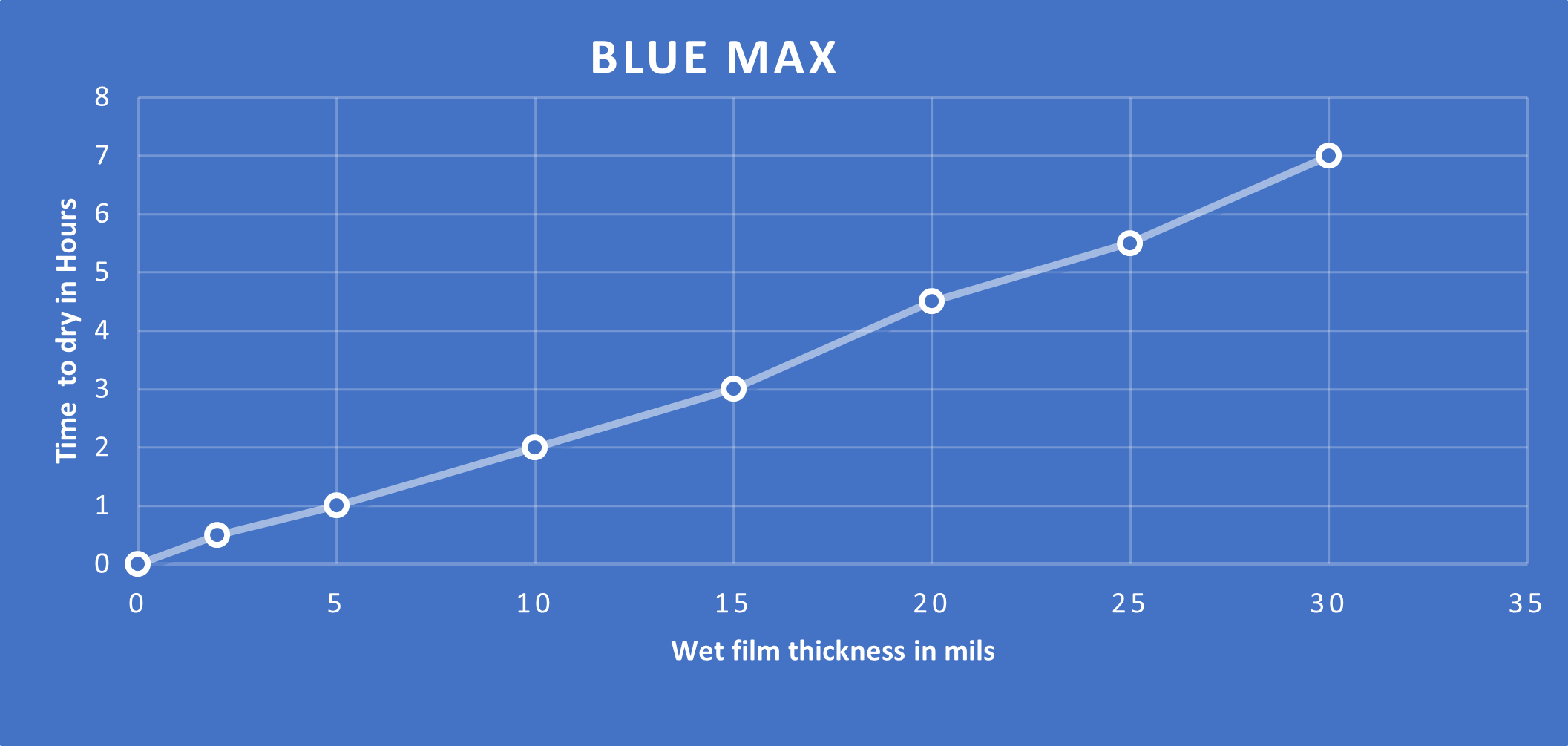 Spray Application
When spraying airless equipment sizing should be a flow rate of 1.0 to 3 GPM, 2500 to 3000psi, heavy duty reversal-clean tip (without diffuser pin) sizes 629 (12" fan .029 orifice size) to 633 (12" fan -033 orifice size). For long hose runs, hose sizes that are 5/8" should be reduced to ½" before connection to gun swivel.

Alternately, you can size your hose for shorter runs at ½" and a whip line of 3/8" or ¼" at the gun for improved gun control.

Consult Ames tech services for assistance in determining if your specific airless sprayer is suitable for the project.

If the airless sprayer has a machine filter in addition to the intake rock screen, we recommend either a 40 mesh filter or temporarily removing the machine filter cartridge altogether.

Airless equipment should be cleaned after use without delay.
Squeegee and/or Roller Application
Pour out a ribbon of material in a line across the surface of the roof.

Squeegee or roller spread the material out to the recommended wet mil application rate.

Pour out successive ribbons of material adjacent to the first area applied and follow the same procedure to the recommended wet mil application rate.

Back roll through the squeegeed material to even up the coating thickness as you move across the roof applying coatings.

24" to 36" roof squeegees with broom style handles are recommended.

18" by 1" to 1 & 1/2" nap rollers/frames are recommended.

9" roller covers can be used for small jobs and embedding fabric.

4" mini roller frames and covers work great for embedding flashing around small detail areas.

If roller covers dry in the sun, replace them promptly with useable roller covers.

Clean squeegees as needed to avoid excessive material buildup.

Rollers can be rolled up into plastic sheeting to keep the roller covers moist and to extend the useful life of the roller covers.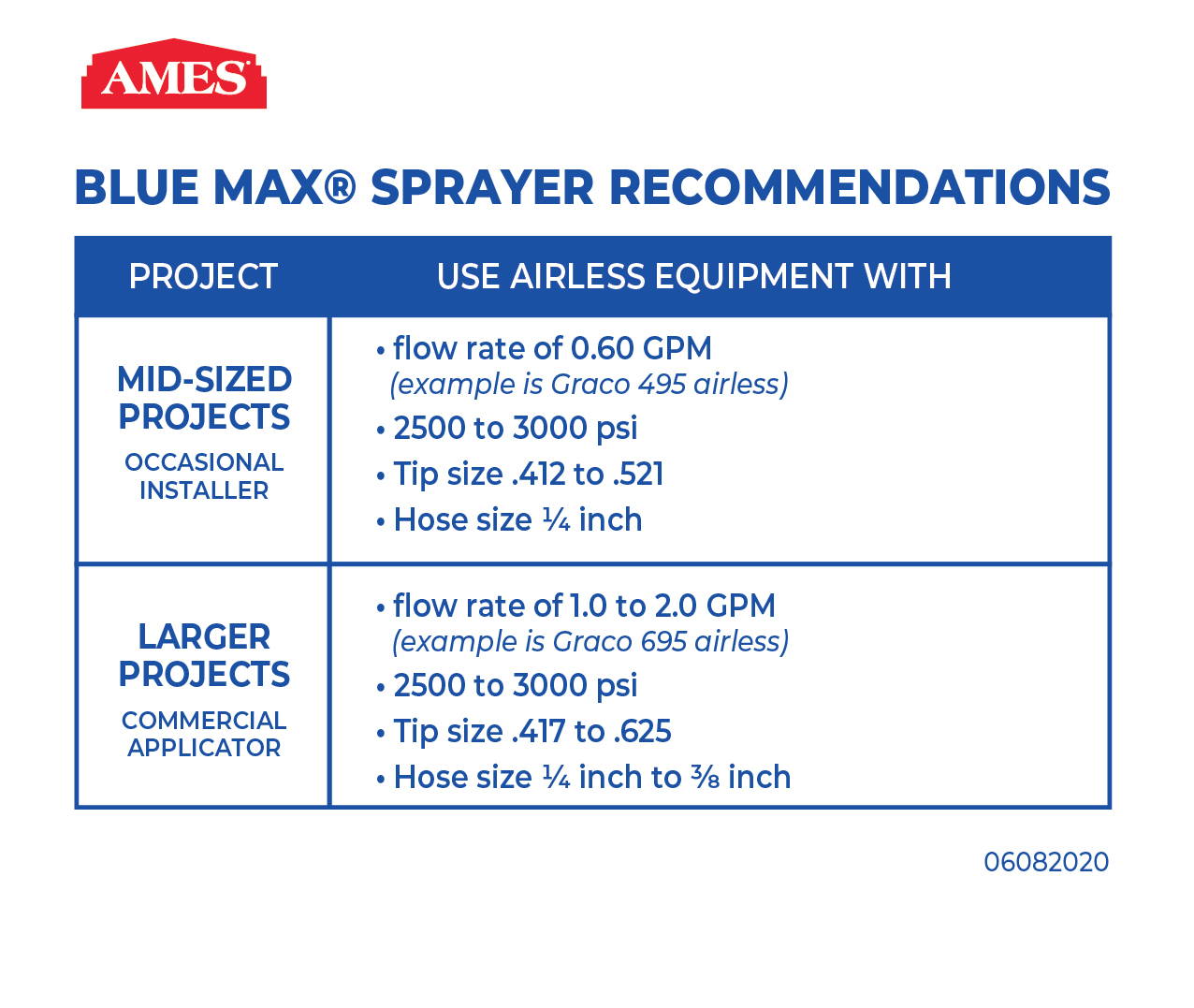 ---
After inspection, repair, and the pre-filling of joints, corners and cracks, you can begin the application of Ames Liquid Membrane. Although most application process will only require two coats, please pay careful attention to mil depth and condition of your substructure.
Customer Testimonial and suggestions.
(please follow all application recommendations, your project may be different)
---
A waterproofing guideline system designed to give you the best for what you actually need. Each application guide will have a level of application needed for the system and conditions you are applying it to.
For all DIY'ers we recommend the "Better" system.
Click on each box to find out more...
Great for mild climates, areas that would most likely not see large climate changes. Mild to moderate rain fall, and not overly humid or hot. When you need great protection but not expecting hurricanes and snow blizzards.
Two Coats at 100 sq ft per gallon
For climates that experience all four seasons and need to be well protected all year round. We recommend this system for our DIY and Professional Contractors. This system makes sure you and your clients are well protected when the weather can fluctuate dramatically.
Two/Three Coats at 50 sq/ft per gallon
A system designed for our Facility Management buildings and large warehouses/schools. This system is designed to stand the test of time and require minimal monitoring and maintenance, saving costs and staff overhead.
Two-Four Coats at 25 sq/ft per gallon, dry film thickness of 30 mils.
---
---
Step One Surface Preparation
Follow all cleaning recommendations in the General Application Guide.



Ames Research Laboratories always recommends a spot adhesion test of all materials to be applied to the site be conducted after surface preparation and cleaning has taken place. This is to verify that there is proper adhesion and that your surface will be protected.
Once Adhesion has been verified use Blue Max Trowel Grade or Caulk to fill cracks and holes from 1/8 inch to 5/8 inch. Trowel Grade can be used to fill in uneven surfaces and create a smooth surface for the waterproofing of your interior walls. (Allow all crack and holes to cure for seven to 10 days) Where the floor and interior wall of your basement meet. Ames recommends a bead of caulk be run along that junction for best protection. (Allow 7 to 10 days for full cure.)
Apply Blue Max Regular Waterproofing Coating in several coats according to the Good, Better and Best Scenario. Blue Max can be applied by brush, roller, or spray. Allow 24 hours between coats. Allow to cure 7 to 10 days for full and best cure before proceeding.
Coat with Ames Paint and Prime or other high quality top-coat acrylic paint.
Blue Max® Liquid Rubber Waterproofing material is dry when it turns deep dark blue, with no visible light blue color

Variations in dry time can be expected in high humidity and low temperatures.

Full cure is typically achieved in 7-10 days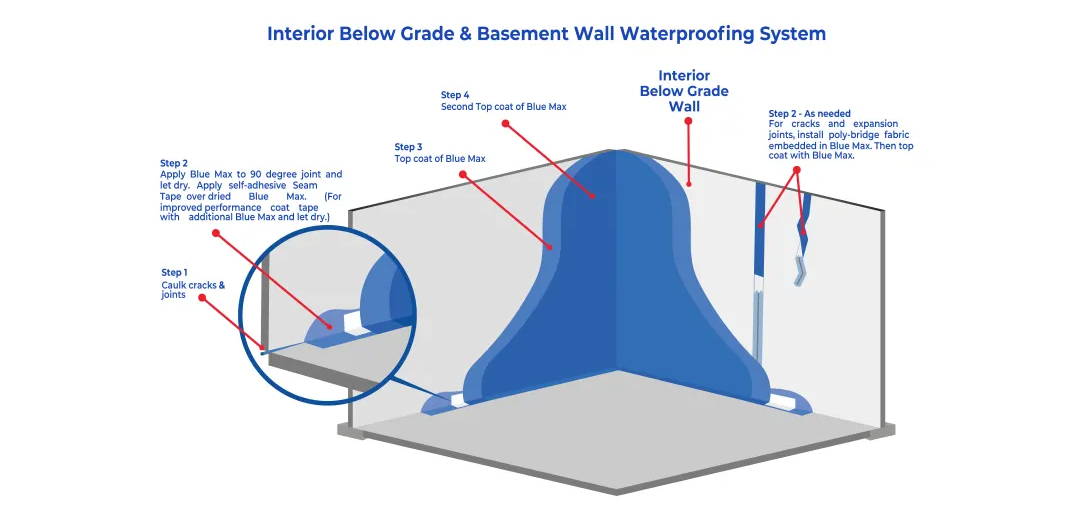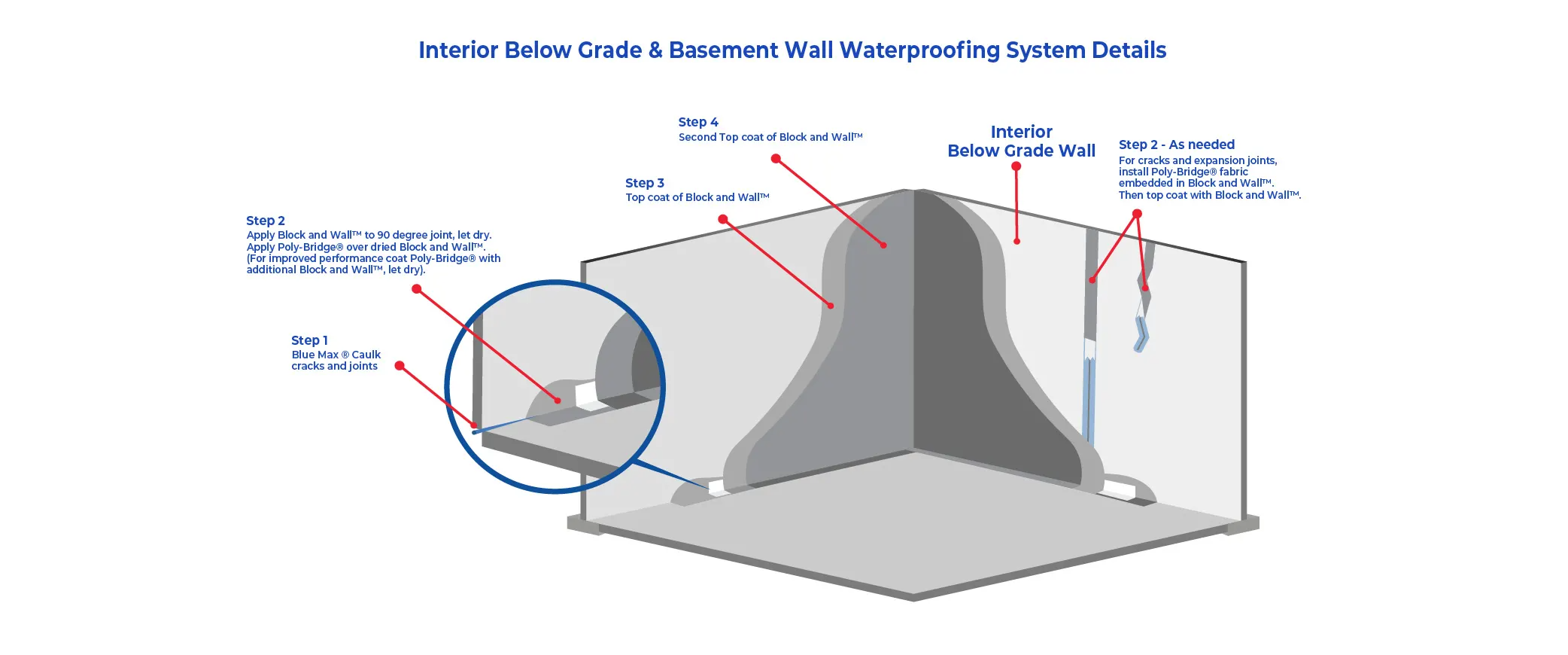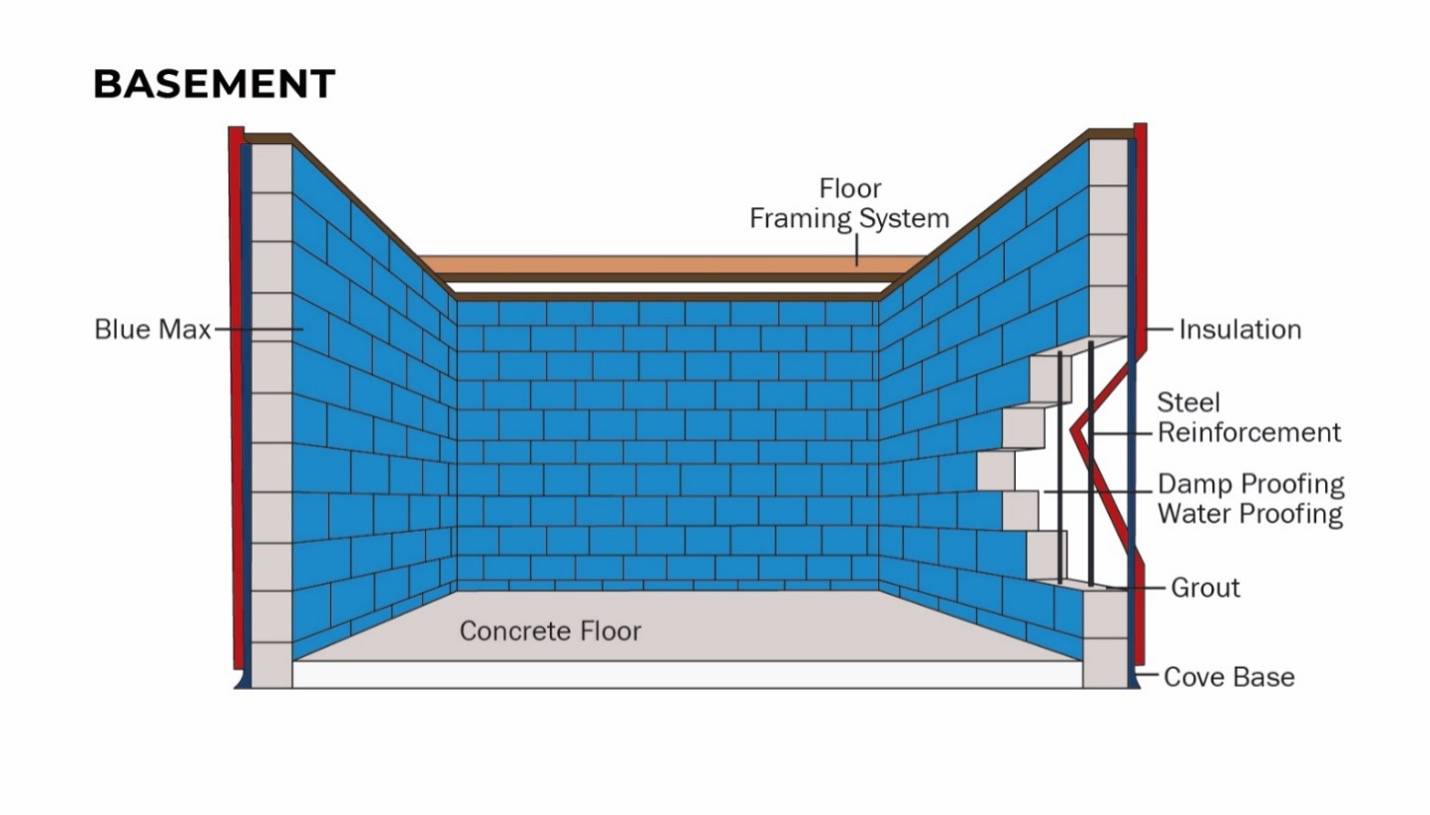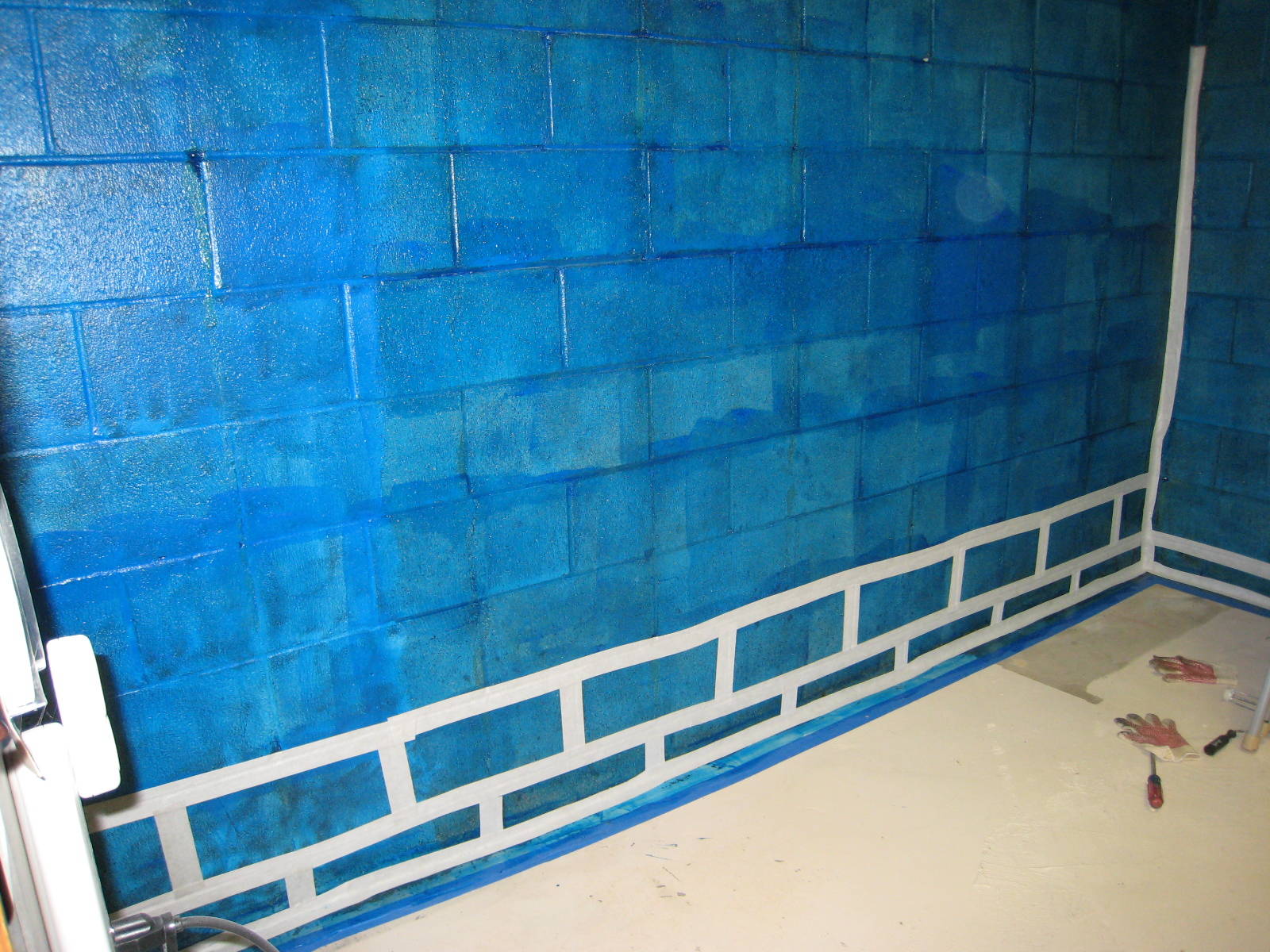 ---
Ames® products are best applied between 50° to 90° F (10° to 32° C) on warm dry surfaces. Products start to dry in 2-8 hours. If possible, wait a minimum of 24 hours between coats for best results. Depending on thickness of application and weather the products cure in 24 hours. Low temperatures, high humidity and evening and morning dew will require increased drying/curing time.
Clean tools and small spills with pure water, no soaps or detergents needed. Store unused product in its original container, tightly sealed and protect from freezing. If unopened, most Ames products will last on the shelf for two (2) years. Dispose of this product in accordance with local, state, or federal requirements.
Use hand and eye protection when using this product
Wash with soap and water after contact with skin
If eye contact occurs rinse with clean water and seek medical advice if symptoms continue
Keep out of reach of Children.
CA Prop 65 This product may contain chemical(s) known to the state of California to cause cancer and/or birth defects or other reproductive harm.
Inspection, Testing & Repair
Inspect after final coat is dry and repair any obvious deficiencies.
Document the substrate conditions before, during and after completion of an Ames Liquid Membrane project. (professional application only)
If excessive materials remain this indicates insufficient dry millage of the product was applied.
Continue to apply all unused materials to the surfaces until materials are depleted and the calculated dry millage for the project is reached and to recommend product specifications.
Follow all warranty guidelines and requirements.
---
Ames Technical & Sales Support Staff
Ames trained support team has over 80 years of combined knowledge and experience in the paint and coatings industry. They are available Monday through Friday from 7:30am to 4:30pm PST to answer any questions you have about Ames waterproofing roof coating and sealant products, the application process, becoming a Retailer/Distributor or reaching out to locate contractors and much more.
---