Waterproof Sealants and Coatings For Concrete Roofs
---
How To Waterproof, Coat and Seal Concrete Roofs
Our elastomeric waterproofing rubberized coatings for concrete roofs provide unmatched flexibility and protection against the harshest conditions. Our products when combined, form a Seamless Monolithic Roof System. This will extend the life of your concrete roof, save you money and reduce your impact on the environment. Our water based coatings system has three application methods that will give you coverage based on your project needs.
---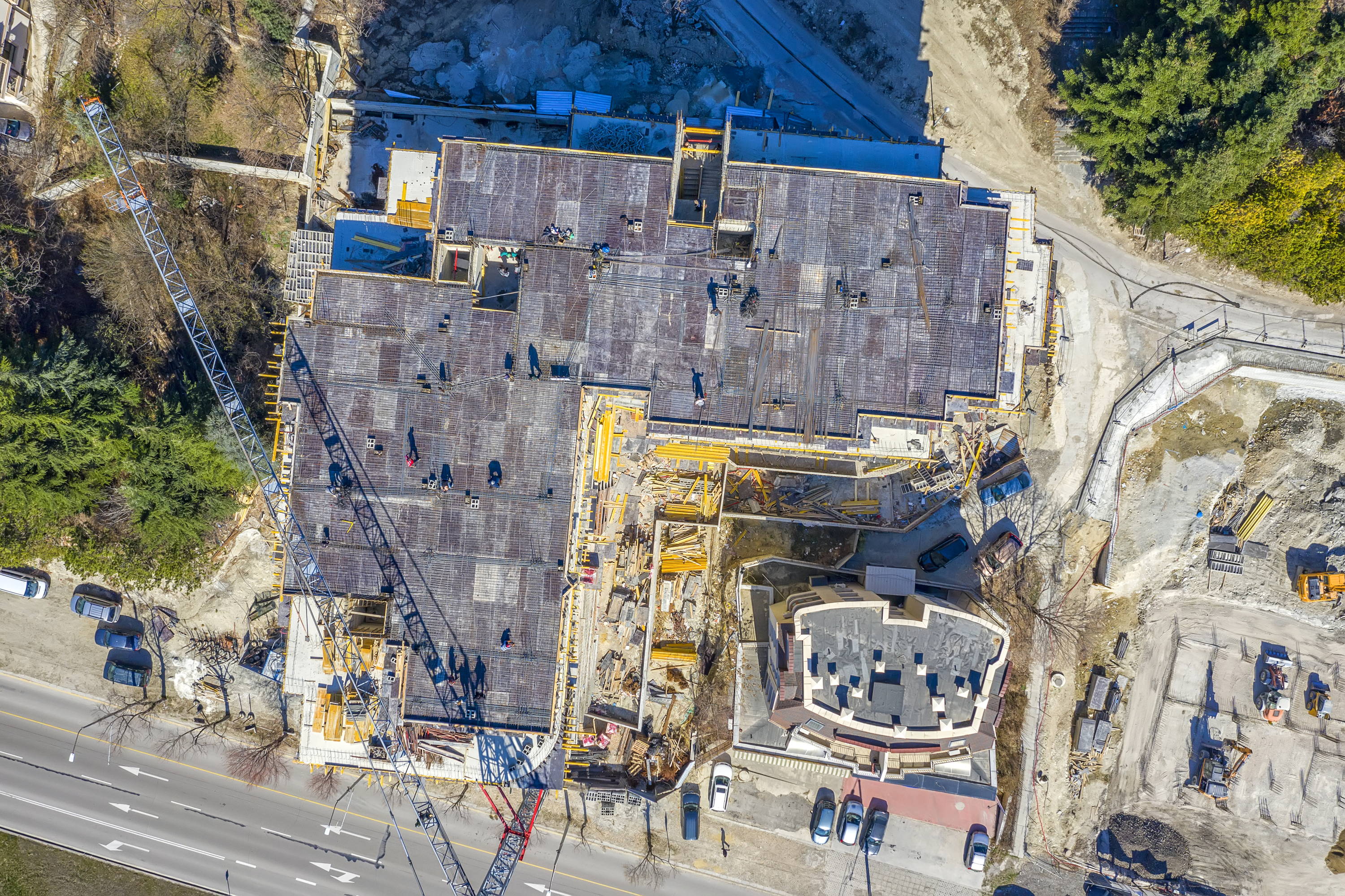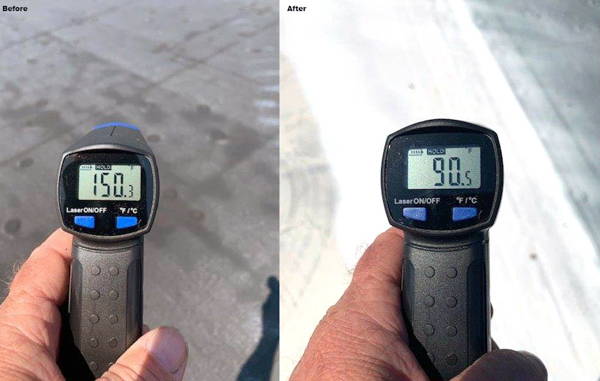 ---
Blue Max® Liquid Rubber Waterproofer is a water-based, strong and highly adhesive elastomeric coating & sealant with 1200% elongation that moves with the surface to resist cracking & peeling. Blue Max® is ideal for waterproofing above & below grade foundations, basements, roofs, floors & more.
---
Good, Better, Best Roof System
A waterproofing guideline system designed to give you the best for what you actually need. Each application guide will have a level of application needed for the system and conditions you are applying it to.
For all DIY'ers we recommend the "Better" system.
Click on each box to find out more...
Great for mild climates and areas that will most likely not see large swings in weather. This includes places that have mild to moderate rain a few times a year and are not overly humid or hot. Also serves as great protection when hurricanes and snow blizzards are not expected.

For climates that experience all four seasons and need to be well protected all year round. We recommend this system for our DIY and professional contractors. This system makes sure you and your clients are well protected when the weather can fluctuate dramatically.

A system designed for our facility management buildings and large warehouses/schools. This system is designed to stand the test of time while being moderately monitored and maintained which saves on costs and staff overhead.

---
PRE-APPLICATION DETAIL WORK
A detailed inspection of the application area must be performed before beginning any work in the installation process. This can be done independently or with your contractor. This is to ensure that your project conditions and AMES installation guidelines match.
---
---
Initial Cleaning
Proper initial cleaning of your substrate includes removing dirt, contaminants, and debris from existing surfaces. All loose contaminants that could prohibit proper adhesion of the Ames Liquid Membrane to the substrate can normally be removed with a stiff bristle broom, vacuuming, or other means unless the buildup is severe then a pressure washer may be required.
Inspection of Substrates
Inspect substrate for suitability to proceed with Ames Liquid Membrane.
If there are substrate issues bring these issues to the project supervisor, architect, customer, or Ames Research Laboratories Tech Services attention for recommendations.
Substrate Conditions - Substrate conditions are specific to the type of surfaces you are working on. Incorrect conditions can cause installation deficiencies that could affect the performance of your waterproofing installation.
Inspect Substrates for:
Protruding or missing fasteners
Loose or broken backer board
Excessive gaps between backer board panels
Excessive gaps at intersections of backer board to other adjacent items
Excessive gaps at cutouts

for water pipes and shower heads

Rough sharp ridges in mortar sloping material
Dried crumbs of mortar slag on the surface of the shower base.
Mortar blocking mounting holes between Drain Base and Clamping Ring
Presence of mold or mildew on walls or sheathing due to extended exposure to the elements or other pre-existing conditions.
Wood Moisture content – at or below 20% as tested at core of substrate. This will typically be a consideration when the floor sheathing has been properly pre-sloped and is the intended substrate for the Ames Waterproofing membrane.
For remodeling projects, a guideline for all types of existing substrates being protected with Ames Liquid Membrane Waterproofing is that aged materials need to be inspected for any possible repair/replacements before

proceeding with new applications. Structural and Environmental integrity is important in the underlying material as it will become a base for the new Ames Waterproofing System. An example of when aged and otherwise deteriorated substrates may be encountered could be when an aged existing shower or tub is being removed and a tile system is being installed.
Ames Research Laboratories, Inc. recommends that these application suggestions be used as a guideline for applying Ames' products.
Do not proceed unless you are satisfied. For product information or technical assistance, call 1-888-345-0809 or contact us via email.
Weather & Drying Guidelines
For exterior application, our products are best applied between 50 to 90°F (10 to 32°C) on warm dry surfaces. Be sure humidity is less than 50% and dew point and temperature have a good spread.
When top coating, keep in mind that white or light colored coatings will reflect nearly all solar rays and dry at a much slower rate than dark colored coatings. If you live in the northern hemisphere the best time to apply white products is the summer months when there is plenty of sunlight. In contrast, darker coatings absorb more sunlight and dry more quickly.
---
After inspection, repair, and the pre-filling of joints, corners and cracks, you can begin the application of Blue Max Regular Grade Liquid Membrane. Although most application process will only require two coats, please pay careful attention to mil depth and condition of your substructure.
---
Step One Surface Preparation
Power wash the surface area of the roof to remove most of the loose material. Use caution so you don't damage any interior areas of the building due to roof leakage. You may need to roughen the surface before application. Fill any large cracks and crevices with Blue Max Trowel Grade. Do not use any soaps or detergents.
Step Two Prime the Surface
Prime the roof with 1-2 coats AMES Super Primer. AMES Super Primer will dry rapidly and will flow into the cracks and crevices of the concrete rooftop. Let the primer dry completely clear, about 30 minutes to an hour. It will bond to the concrete with remarkable adhesion. Super Primer has an affinity for concrete and glues together and strengthens old concrete surfaces.
Next, seam tape all remaining cracks larger than ⅛″. AMES Peel & Stick Seam tape comes in 2, 4, and 6 inch widths by 50-foot rolls. This rubber tape contours easily to the surface and will adhere to the primed surface. Once applied, the seam tape will be difficult to remove. For tape to work properly it must be on a smooth surface.
Step Four Apply Elasto-Barrier
Prime the surface with AMES Elasto-Barrier using a paint brush or roller at a rate of 2-3 gallons per 100 square feet. This begins to dry in about 2-4 hours but for best results, wait a minimum of 24 hours between coats or until completely dry.
Step Five Top Coat Surface
Apply AMES Maximum Stretch roof coating. Two to three gallons per 100 sq. ft. is recommended; however, this could vary based on surface and system used.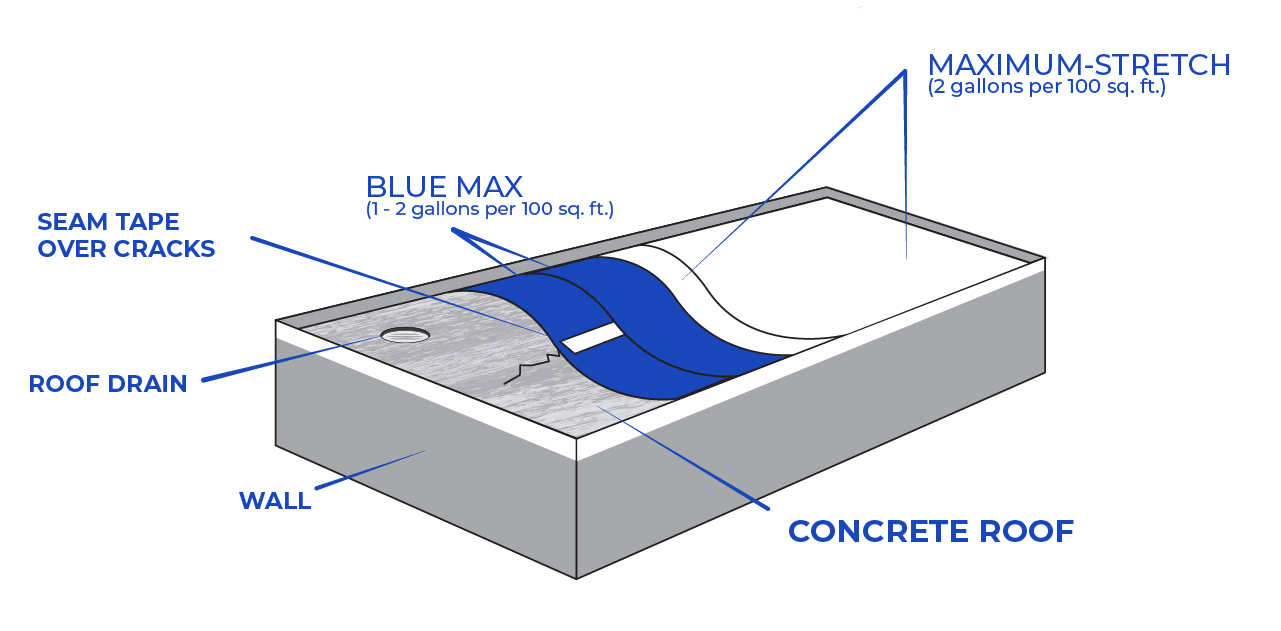 ---
AMES® products are best applied between 50° to 90° F (10° to 32° C) on warm dry surfaces. Products start to dry in 2-8 hours. If possible, wait a minimum of 24 hours between coats for best results. Depending on thickness of application and weather the products cure in 24 hours. Low temperatures, high humidity and evening and morning dew will require increased drying/curing time.
Clean tools and small spills with pure water, no soaps or detergents needed. Store unused product in its original container, tightly sealed and protect from freezing. If unopened, most Ames products will last on the shelf for two (2) years. Dispose of this product in accordance with local, state, or federal requirements.
Use hand and eye protection when using this product
Wash with soap and water after contact with skin
If eye contact occurs rinse with clean water and seek medical advice if symptoms continue
Keep out of reach of Children.
CA Prop 65 This product may contain chemical(s) known to the state of California to cause cancer and/or birth defects or other reproductive harm.
Inspection, Testing & Repair
Inspect after final coat is dry and repair any obvious deficiencies.
Document the substrate conditions before, during and after completion of an AMES Liquid Membrane project. (professional application only)
If excessive materials remain this indicates insufficient dry millage of the product was applied.
Continue to apply all unused materials to the surfaces until materials are depleted and the calculated dry millage for the project is reached and to recommend product specifications.
Follow all warranty guidelines and requirements.
---
AMES Technical & Sales Support Staff
AMES trained support team has over 80 years of combined knowledge and experience in the paint and coatings industry. They are available Monday through Friday from 7:30am to 4:30pm PST to answer any questions you have about AMES waterproofing roof coating and sealant products, the application process, becoming a Retail/Distributor or reaching out to locate contractors and much more.
---