---
How To Properly Coat Concrete Roofs
AMES rubberized, acrylic, elastomeric waterproof coatings for concrete roofs provide unmatched flexibility and protection against the harshest conditions. Use AMES Seamless Monolithic Roof Coating Systems to protect and prolong the life of your roof for years.
---
---
Good, Better, Best Roof Systems
Each application system will have a different level of protection to meet your specific needs.
Click on each box to find out more...

Use this system in mild climates when your existing roof is in good condition.

Use this system in moderate climates for added 4-season protection.

Use this system in commercial applications where the highest level of protection is desired.


---
Note: Elasto-Barrier and Blue Max can be used interchangeably for this project type.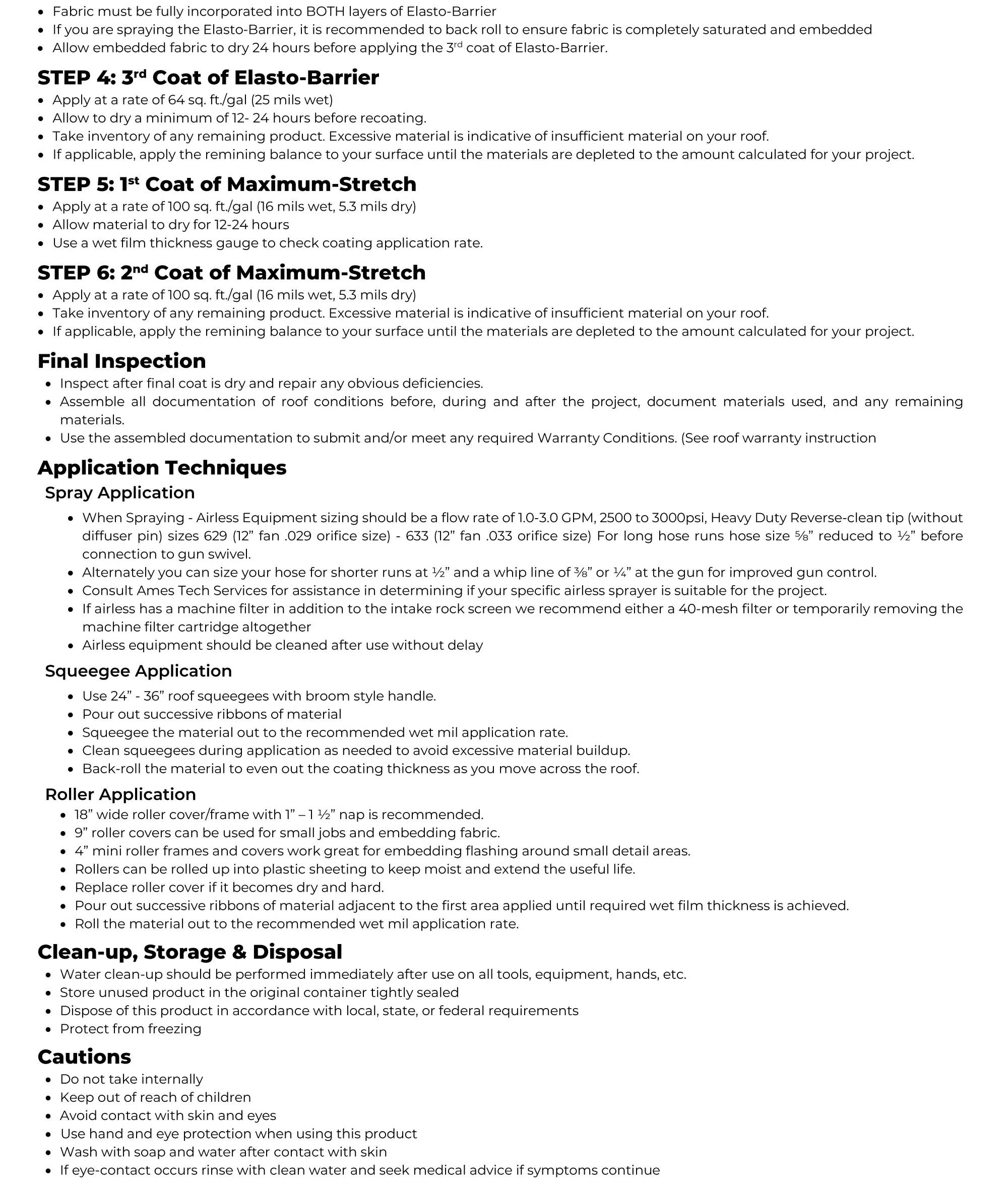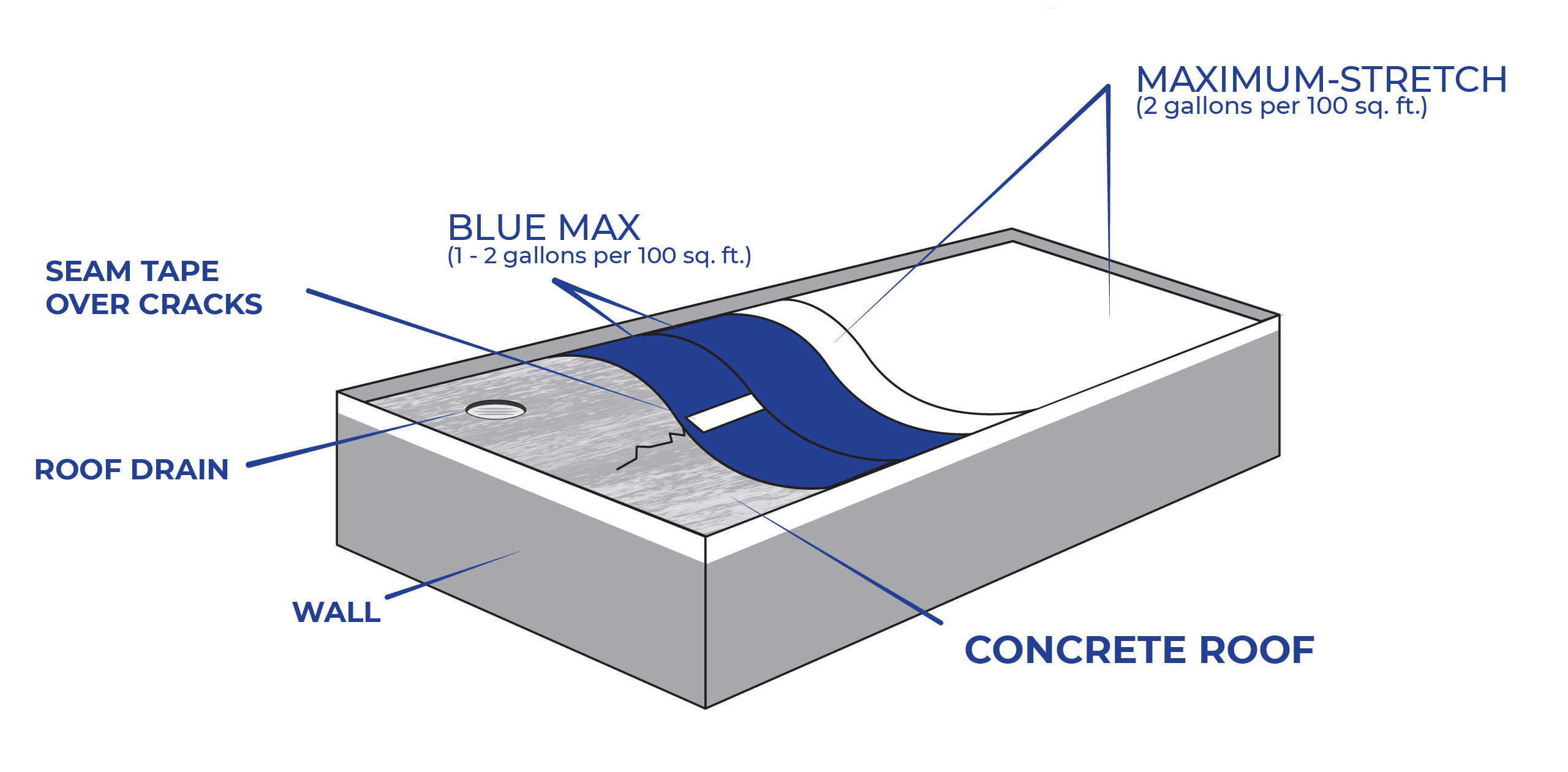 Step One Surface Preparation
Power wash the surface area of the roof to remove most of the loose material. Use caution so you don't damage any interior areas of the building due to roof leakage. You may need to roughen the surface before application. Fill any large cracks and crevices with Blue Max Trowel Grade. Do not use any soaps or detergents.
Step Two Prime the Surface
Prime the roof with 1-2 coats AMES Super Primer. AMES Super Primer will dry rapidly and will flow into the cracks and crevices of the concrete rooftop. Let the primer dry completely clear, about 30 minutes to an hour. It will bond to the concrete with remarkable adhesion. Super Primer has an affinity for concrete and glues together and strengthens old concrete surfaces.
Next, seam tape all remaining cracks larger than ⅛″. AMES Peel & Stick Seam tape comes in 2, 4, and 6 inch widths by 50-foot rolls. This rubber tape contours easily to the surface and will adhere to the primed surface. Once applied, the seam tape will be difficult to remove. For tape to work properly it must be on a smooth surface.
Step Four Apply Elasto-Barrier
Prime the surface with AMES Elasto-Barrier using a paint brush or roller at a rate of 2-3 gallons per 100 square feet. This begins to dry in about 2-4 hours but for best results, wait a minimum of 24 hours between coats or until completely dry.
Step Five Top Coat Surface
Apply AMES Maximum Stretch roof coating. Two to three gallons per 100 sq. ft. is recommended; however, this could vary based on surface and system used.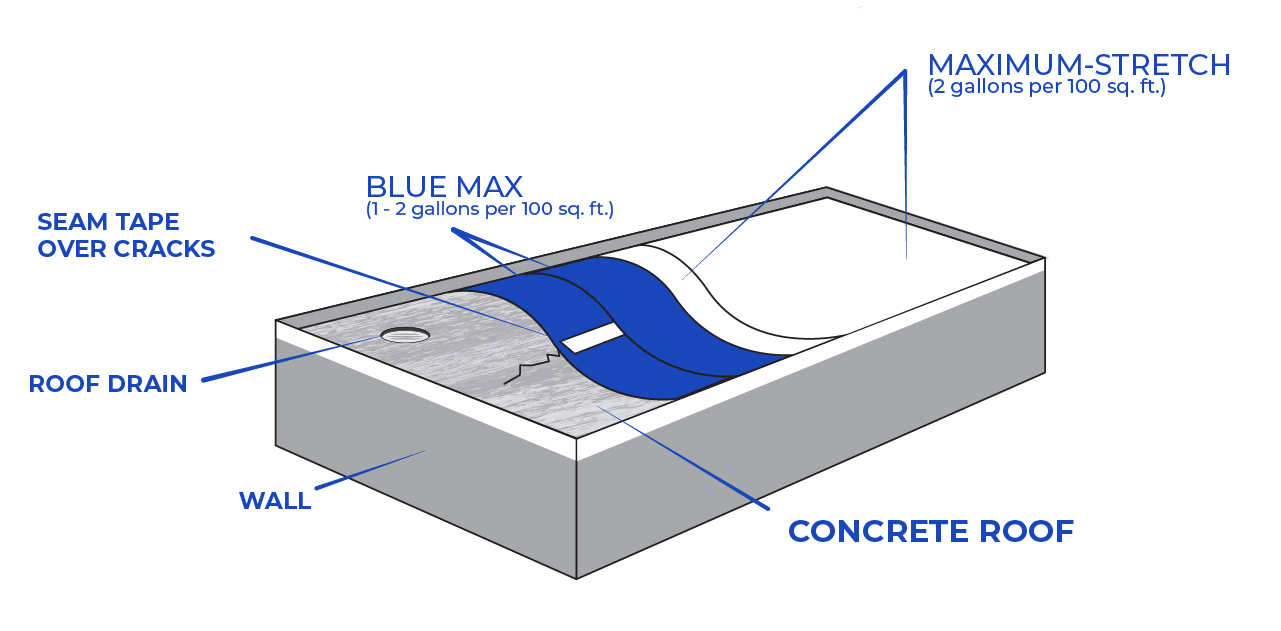 ---
---
AMES Technical & Sales Support Staff
AMES trained support team has over 80 years of combined knowledge and experience in the paint and coatings industry. They are available Monday through Friday from 7:00am to 4:30pm PST to answer any questions you may have about AMES products and services, application, becoming a retailer/distributor and much more.
---