Posted by Joseph Butterfield, Product Specialist on 24th May 2023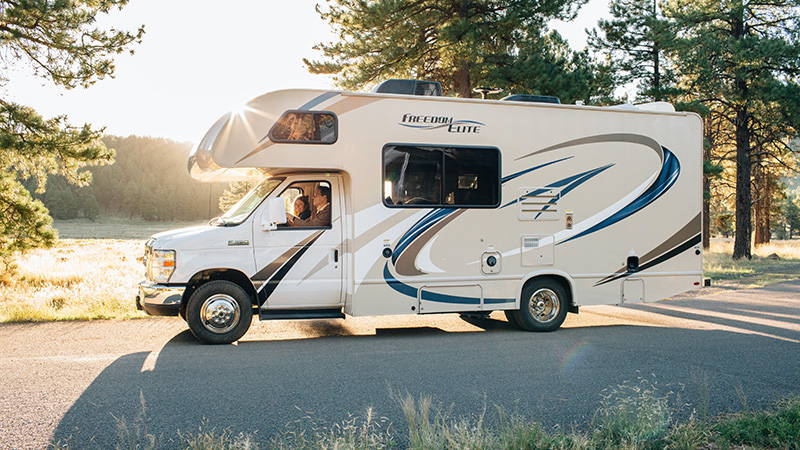 The RV life is all about the freedom to be where you want, when you want, for as long as you want all while feeling at home. If your RV roof is leaking though, it's hard to relax and enjoy almost anything. A little bit of maintenance with the right products can protect your RV and your lifestyle all year long. Using RV roof sealants and coatings like AMES Elastomeric Coatings on your RV roof can be incredibly beneficial for a variety of reasons.
Weather Will Take a Toll on Your RV Roofing System
RVs are typically exposed to extreme weather conditions year around. Mother Nature can take a toll on your roof. Therefore, it is important to inspect your RV roof on a regular basis to make sure you have not encountered any seam or protrusion damage due to extreme weather conditions or debris fall.
The sun's penetrating rays can wear out almost any roofing system without proper care and protection. The heat from the sun can weaken your roof over time. As your roof weakens, so does its ability to reflect these rays. This makes your RV harder to cool in the summer and allows heat to escape in the winter. Your energy costs will only continue to climb. AMES Products are rated 88% reflective of the suns UV rays.
Our Maximum-Stretch is a great RV roof sealant & coating that will protect your roof in the winter with its waterproofing abilities to resist moisture and water penetration and protect your roof from the summer heat with its ability to reflect 88% of the sun's UV rays.
RV roofs are going to expand and contract due to temperature change which can create weak points allowing water to penetrate through the seams. This can lead to costly repairs of wall panel damage and mold issues. AMES RV coatings will expand and contract with the structural movement of the roof to prohibit any potential water seepage or leaks and prevent future costly damages.
Wear and Tear from Life on the Road
The more you drive your RV around, the more wear and tear it will experience. Vibrations and shifts in the road surface, will cause the structure of your RV to wear down over time. By keeping it protected with a roofing system from AMES, you can help cut down on this wear and tear and keep your RV on the road longer.
By protecting the roof of your RV you are also able to help protect your peace and relaxation both at the camp site and on the road. The continuous and uniform membrane creates a sound blocker from high winds when driving on the freeway.
How to Protect Your RV Roof:
Whether you're coating your RV with the purpose of fixing an existing issue or simply for preventative measures, it's important to know what type of roof you are working with. Refer to your owner's manual or RV dealer to inquire about your RV's current roof. Next, you'll need to do a quick visual inspection of your roof to check for cracks where water may be entering your home over time.
AMES Coatings can be applied over numerous roofing substrates. The application process may vary depending on the roof type or even the condition of the roof. Please refer to our Application Guide below for further instructions pertaining to our "Good, Better, & Best" application methods for your specific roof type.
Common RV Roof Types Include:
Metal/Aluminum

EPDM Rubber

Fiberglass
Is Your Roof Already in Need of Repair
If your roof already has experienced damage, it's not too late. Using the right products can help repair and protect your roof from further damage. AMES products are designed to do both protect, and restore your current RV roof. This helps you save money, love your RV longer, and get the very most out of your investment. Contact us to learn more or if you have any questions.