Posted by Tim Simpson, Quality Control Manager, Maintenance Coating Inspector on 24th May 2023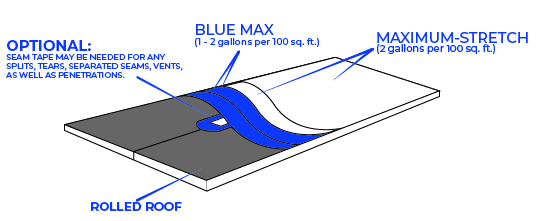 What Is A Seamless Monolithic Roof?
Roofs are a system of materials applied to a building's exterior roof substrate to protect the building structure and interior from the direct effects of nature's elements. We focus this article on roofs used on commercial and industrial buildings, and flat or low sloped housing structures.
Often roof care is limited to repair, rather than preventative maintenance, which is not ideal for the building's inhabitants or owners. In this article, we focus on best practices for preventing future leaks in old roofs and repairing roofs seamlessly.
In this blog we focus on defining a variety of roof systems being used along with a discussion about the pros and cons between a variety of popular systems. Roof care can frequently be limited to spot repairs instead of a defined preventative maintenance program. The result can be a crossroads reached by building managers and owners where the choice is to completely replace a roof or alternately to overlay the roof with a Seamless Monolithic Roof Membrane. We will also introduce you to Ames Liquid Applied Seamless Monolithic Reinforced Membrane Roofs and offer you links to our website for detailed information on all our systems.
Roofs Then and Now
Historically, hot tar has been used on flat roofs dating back to the mid-1800s. Although roof systems have evolved, there are still many tar roofs on older buildings that continue to be re-tarred to this day. Thanks to emerging technology, building owners and facility managers have turned away from inefficient and non-eco-friendly hot tar applications and moved to energy efficient, long-lasting, low VOC, and sustainable roofing materials.
The Evolving Roofing Industry
Thanks to our current technology – Building Owners and Facility Managers have turned away from inefficient environmentally unfriendly hot tar applications and moved to energy efficient, long lasting, low VOC, & sustainable roofing materials.
Interestingly, most modern roofing materials still begin as a liquid. Sheet materials are created from liquids that are converted (via heat or chemical application or both) to a solid sheet of material. These formed materials are then trimmed, cured, and rolled into sizes that can be handled by crews during installation. These materials do not combine to create a monolithic (single) roof but are instead joined at their seams by a fastening system. Although these rolled roofing materials may be reinforced at the factory, a major drawback of this manufacturing and installation process are the numerous seams and joints that, predictably, create weak spots for water to penetrate the roofing system.
These prefabricated materials can include:
Cap Sheet – a commonly used low cost asphaltic based reinforced rolled material with an embedded granular top surface which is similar in composition to an asphalt roofing shingle. Cap Sheet comes in a roll form typically sized for each roll to cover about 100 sq. ft. The material is unrolled into a wet bed of asphaltic based adhesive and overlapped onto adjacent strips of cap sheet. The overlapping joints are glued together with a splicing adhesive. The granular side of the cap sheet material is face up to provide a wear surface.
Other Rolled Roofing Products - Various other rolled sheet materials such as EPDM, TPO, Modified Torch Down, and Vinyl are also provided in rolls which are applied in a similar manner to cap sheet. These other products are partially or fully glued with seams spliced by a variety of methods including the use of adhesives or heat welding. Sometimes a portion of these roof types are also ballasted with gravel but not always.
Regardless of the method of interlocking these materials together, a common denominator of this rolled materials are numerous seams and joints. These seams and joints can result in a finished product that may need to be frequently inspected and the seam's integrity maintained.
Ames Liquid Applied Seamless Monolithic Reinforced Membrane Roofing & Roof Repair System
A simple and somewhat obvious workaround for the weak spots created by seams and joints in a roofing system is to have no seams at all. In a monolithic membrane system, liquid materials are applied in bonded layers to provide a fully gap-free roof surface.
Ames Monolithic Seamless Reinforced Membrane Roofs are superior in that roof components are combined at the project site and liquid-applied for a custom fit to the building's roof. What results is a fully adhered protective membrane that seals out all moisture, eliminating roof leaks and the costly upkeep otherwise associated with non-monolithic systems. Periodic maintenance of this Ames Liquid Applied Roof System can extend the life of your roof for decades.
The Ames Liquid Applied Seamless Monolithic Reinforced Membrane Roofing & Roof Repair Systems are made up chemically bonded multiple wet applied layers of elastomeric coatings and reinforcing membrane. This monolithic membrane includes Ames Maximum Stretch UV Stable Reflective Topcoats, Ames Elasto-Barrier Waterproofing Elastomeric Base coat, Ames Seam Tape and Ames Re-enforcing Fabric. All components become an integral part of the monolithic membrane. The installed product has excellent adhesion to the existing roof deck substrate. Periodic maintenance of this Ames Liquid Applied Roof System can extend the life of your roof for decades.
Ames Research feels that - given the choice in fabrication of a reinforced membrane in our manufacturing facility, then delivering it to your project in rolls, and finally seaming all the pieces together - we instead prefer to deliver the materials in a liquid state along with all the reinforcing accessories to your project. Applicators then install the Seamless Monolithic Reinforced Membrane tightly adhered to your roof substrate.
Ames® Maximum-Stretch® is a flexible, high quality rubberized acrylic elastomeric coating with reflective properties blended especially for restoration of aged and deteriorated roofs. It has been designed specifically for waterproofing and maintaining many types of existing roofs & roof substrates. Maximum Stretch is used as a stand-alone roof coating and as a topcoat in our multi-layer Roof Coating Membrane Systems.
An installed Ames Seamless Monolithic Reinforced Membrane System is made up of productservices@amesresearch.com
Return to Roofing Project Page