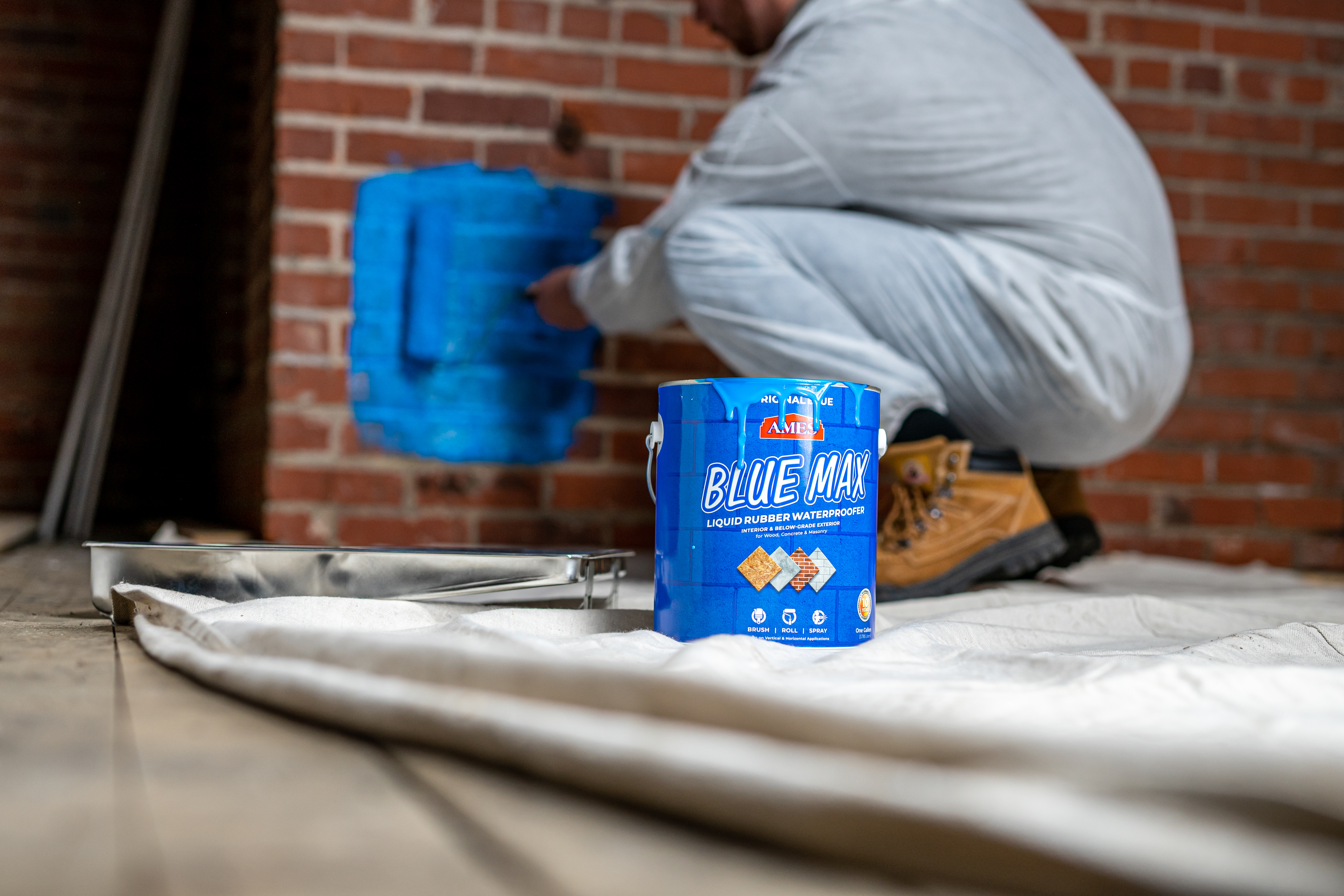 Ames® Research Laboratories, Inc. has just released some remarkable testing on new technology that will protect your structures before and after hurricanes or storm damage!
Ames Blue Max ® is a Water-based Liquid Rubber and has broken the barrier with new remarkable impervious science technology.
Ames Blue Max is perfect in hurricane areas for protection before a hurricane and Ames Blue Max seals and protects wood, siding, wafer wood, and plywood. Ames Blue Max is impervious, and keeps moisture and bacteria out, because it is an airtight seal.
Ames Research Laboratories newest technology…. Ames Blue Max ® Water base Liquid Rubber.
Ames' Blue Max is a special blend of adhesive, high strength elastomeric liquid rubber. It is a new, impenetrable, rubber technology for waterproofing in extreme wet situations such as flat roofs, below grade foundations and basement walls. It is high in solids and dries to a tough 1200% elastic membrane that resists cracking and peeling. Ames' Blue Max is impervious to water when applied in a uniform and seamless fashion with adequate millage. It flows into cracks and crevices as a liquid and sets up as a durable rubber to seal leaks wherever they occur. Ames' Blue Max is available in a thick trowel-grade for use as a filler, and a heavy duty sprayable grade. It dries to a translucent blue color.
Ames' Blue Max is also an excellent coating for ICF (insulated concrete forms), as well as metal, wood, concrete, and many other applications. The adhesive qualities in Ames' Blue Max actually glue surfaces together and strengthen wall construction. Ames' Blue Max out performs isocyanate urethanes, and works well as a primer and waterproofing membrane for Ames' products such as Ames' Safe-T-Deck®, Ames' Snow Seal®, Ames' Maximum-Stretch®, Ames' Block & Wall®, Ames' Iron Coat® and many other coatings. Ames' Blue Max must be top coated for UV protection in exterior applications.
This coating is water base and contains no petroleum. It is non-toxic, VOC-free, low odor, and environmentally friendly. It can be used as a potable water coating. Ames' Blue Max is easy to apply ~ simply roll, brush or spray. Clean up with water.
Clean and Prepare the Surface
Always run a test patch first, in an inconspicuous area, to ensure proper adhesion and drying, and that the product performs to your satisfaction. Be sure that surfaces are clean and dry before the coating application. Caulk all cracks greater than 1/8″ wide with Ames' Blue Max trowel-grade. Install adequate drains to drain flat roofs.
Seam Tape and Prime the Surface
Surfaces with joints, cracks, flashings, vents, parapet wall flashings or where two unlike surfaces come together, require Ames'® Peel & Stick Seam Tape (PS250, PS450 or PS650) to provide some additional strength and reinforcement. Prime all surfaces generously with Ames' Blue Max prior to setting the Seam Tape in place. (See Seam Tape label for instructions.) Apply a liberal topcoat of Ames' Blue Max over the Seam Tape and allow to cure.
Ames' Blue Max Application
Apply Ames' Blue Max to the surface. We recommend two gallons per 100 sq. ft. or two coats as needed for walls, and three gallons per 100 sq. ft. Ames' Blue Max is slightly tacky and may be top coated on roofs with Ames' Maximum-Stretch, and on basement walls and foundations with Ames' Block & Wall or Ames' Paint & Prime. When used on roof decks Ames' Blue Max is top coated with Ames' Safe-T-Deck. Ames' Blue Max needs to be top coated in applications with direct sun contact to protect from UV degradation. Applications below ground, such as ICF (insulated concrete forms) do not need to be top coated.
Concrete Walls & Foundations
The surface must be clean, dry, and free of loose material. Fill all joints or cracks wider than 1/8 inch with Ames' Blue Max trowel-grade. It is important to seam tape all joints and cracks to avoid future cracking and leaking. Seam tape flashing to wood; wood to wood; concrete to wood; metal to wood; brick to wood; etc. Ames' Blue Max may be brushed, rolled or sprayed. We recommend two gallons per 100 square foot for walls. The application must be applied in a continuous, unbroken seal of a minimum dry thickness of no less than 30 mils (the thickness of a dime).
Rolled Roofing, EPDM Rubber Roofs and other types of Roof Surfaces
Remove loose dirt, granules, moss, and debris from roof surface. IMPORTANT: Use caution with power washing. Replace any missing pieces of rolled roofing. Prime with 2-3 coats of Ames' Blue Max until roof surface is smooth and sealed. IMPORTANT: Prime roof completely smooth and watertight before applying roofing fabric. Topcoat with Ames' Snow Seal or Ames' Maximum-Stretch. On roof decks, topcoat with Ames' Safe-T-Deck.
Weather & Drying Guidelines
For exterior applications, Ames' Blue Max is best applied between 50 to 90 degrees F (10 to 32 degrees C) on warm dry surfaces. Be sure humidity is less than 50% and dew point and temperature have a good spread. Ames' Blue Max will begin to dry in 30 minutes to 2 hours depending upon thickness of application and weather. It continues to cure for up to 2 weeks. A slight tack is normal after drying. Ames' Blue Max may be recoated or top coated when it is dry to the touch.
IMPORTANT: For exterior applications check your local weather forecast and follow our Ames'® Weather Rule: Apply when the streets are dry, the sun is in the sky, the roof is warm to the touch, and no inclement weather is forecast for 24 hours. Consult your local weather forecast. The best work window during winter months is usually between 10am and 2pm with a forecast of clear weather for the following day. Low temperatures, high humidity and evening and morning dew will require increased drying/curing time.
When top coating Ames' Blue Max, keep in mind that white or light colored coatings will reflect nearly all solar rays and dry at a much slower rate than dark colored coatings. If you live in the northern hemisphere the best time to apply white products is the summer months when there is plenty of sunlight. In contrast, darker coatings absorb more sunlight and dry more quickly.
Cleanup, Storage and Disposal
Clean tools and small spills with water. Store unused product in its original can, tightly sealed and protected from freezing. Dispose of this product in accordance with local, state, or federal requirements.
Estimated Coverage
Standard product coverage on a smooth surface is 100 sq. ft. per gallon per coat (est. 10 mil). More than one coat is recommended because more coats equal longer life. Rough surfaces will require additional product and drying time.
Suggested Tools
Ames' industrial-strength coatings are easy to apply for the Do-It-Yourselfer. Most Ames' products may be applied by brush, roller, push broom, or sprayer. Ask for a sprayable-grade coating when applying by sprayer. Depending upon the roughness of the surface, preparation, and the specific application, you may need one or more of the following:
3-4 inch wide paint brush

Scissors or Utility Knife

Roller & Handle

Commercial Airless Sprayer

Ames' Seam Tape