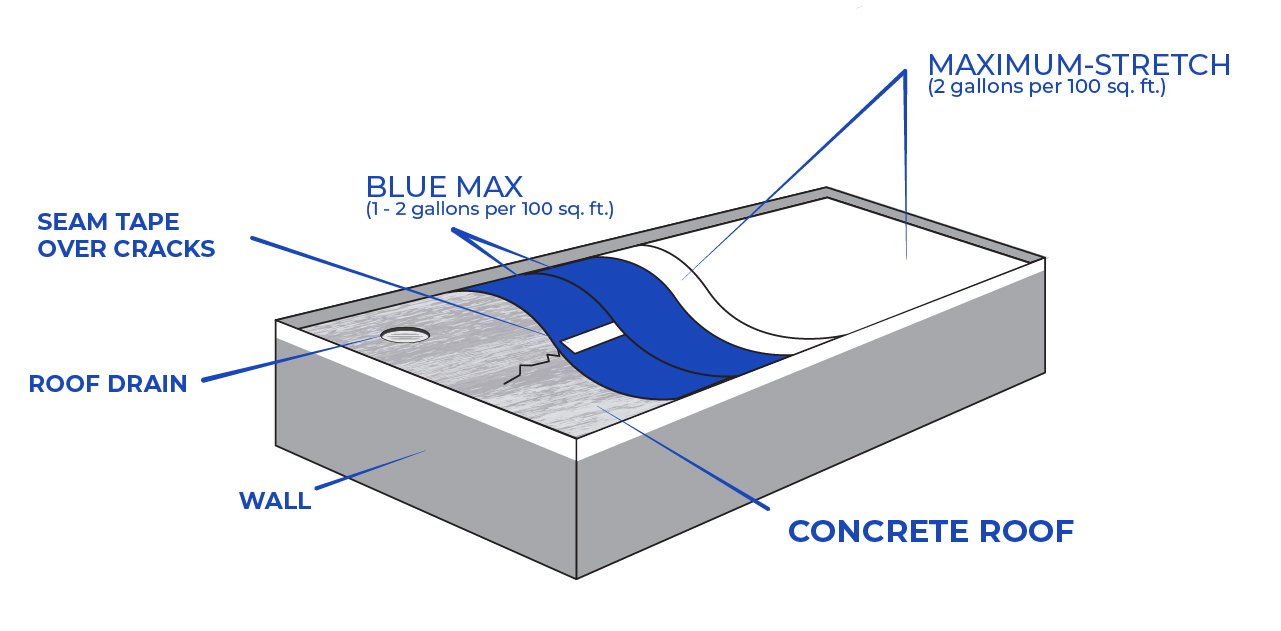 Before beginning any waterproof concrete roof project, read all instruction labels. Always run a test patch first in an inconspicuous area, to ensure that proper adhesion and drying occur and the product works to your satisfaction.
PREPARE THE SURFACE
Power wash the surface area of the roof to remove most of the loose material. Use caution, so as not to damage any interior areas due to roof leakage that is inside the building. You may need to roughen the surface and fill any large cracks and crevices with Blue Max trowel-grade.
PRIME THE SURFACE
Prime the roof with Ames'® Super Primer. Super Primer will bond and dry rapidly as it flows into the cracks and crevices of the concrete rooftop.
SEAM TAPE
Next, seam tape all remaining cracks larger than one-eighth of an inch. Ames Peel & Stick Seam tape comes in 2, 4, and 6-inch widths by 50-foot rolls. This rubber tape contours easily to the surface and will adhere to the primed surface. Once applied, the seam tape will be difficult to remove so be sure to place it accordingly.
PONDING WATER SITUATIONS
In areas of ponding water, apply Ames'® Elasto-Barrier dual-rubber coating. A minimum of two gallons per 100 sq. ft. is recommended in most situations.
TOPCOAT THE SURFACE
Apply Ames'® Maximum-Stretch roof coating. Two to three gallons per 100 sq. ft.is recommended for most situations.