Posted by Gene Tooze - Product Specialist on 24th May 2023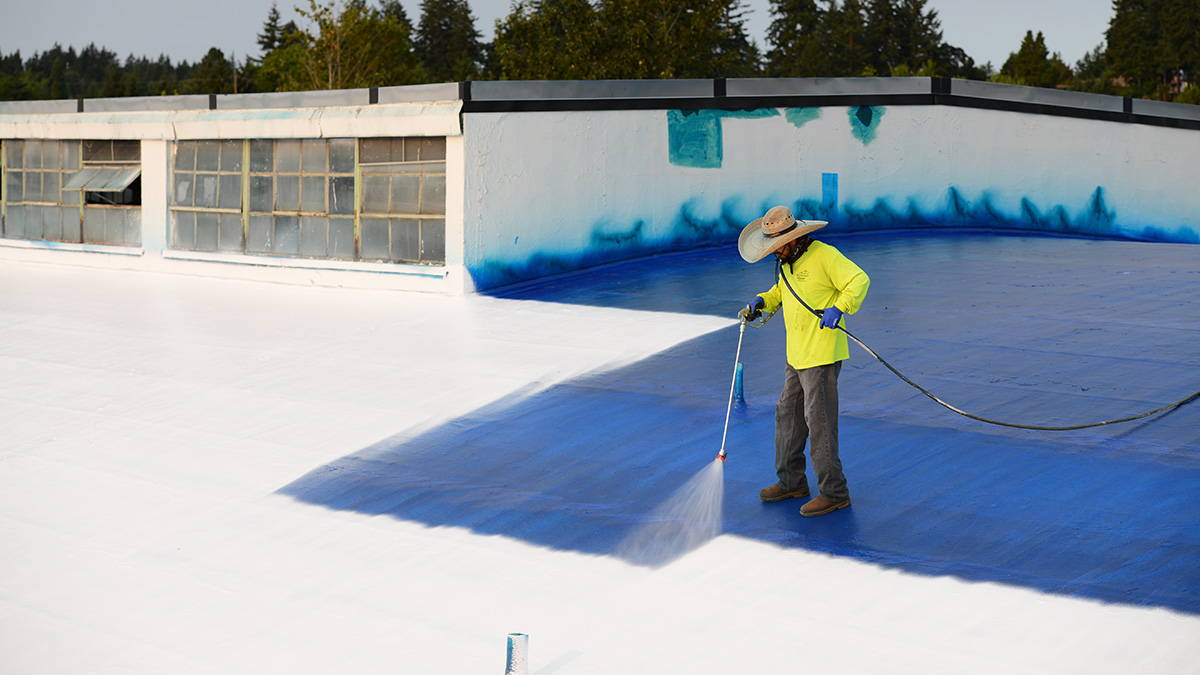 You have options when it comes to resurfacing or recoating the roof of your building. Not all options offer the same protection and performance. There are many benefits of using acrylic elastomeric roof coatings over other products. Superior performance and protection are available at a fraction of the cost when you factor in the lifetime savings from limited reapplication, installation services, and energy savings. Continue reading to learn more about the benefits of these simple yet superb roofing materials.
The Environmental Benefits of Using Acrylic Elastomeric Roof Coatings
Other roof coatings require the use of harsh chemicals. This creates an impact on the environment at many levels, from the sourcing of the materials to the manufacturing of the roof coatings, their application, and their breakdown over time. They can give off Volatile Organic Compounds (VOCs), at every point in their lifespan, both affecting the environment and the people who work with them.
Elastomeric roof coatings are water based. The ingredients that go into these products are safe for the environment throughout their lifespan. These coating options have low VOCs and have a long lifespan.
But solvent base tar roof coatings are high in VOCs and not environmentally friendly, flammable, and hazardous to the environment and must be cleaned up with solvents such as mineral spirits.
Acrylic Economic Benefits of Elastomeric Roof Coatings
In addition to being better for the environment, elastomeric roof products are better for your budget. They are more affordable to purchase, use, and maintain. These roof coatings expands and contract with the surface and weather to resist cracking or splitting over time. This means that they are both cost effective and can hold up to a variety of climates without the need to frequently replace or recoat your roofing surface. You'll need to reapply our coatings less often allowing you to focus on your bottom line rather than your roof line.
Something else to think about is how these roof coatings affect the performance of your building. Acrylic elastomeric roof coatings are highly reflective and UV resistant. These coatings can actually reflect the heat and harmful rays of the sun. You'll save money on your energy bills.

Other roof coatings such as a silicone can tear easily, prone to attracting and holding dirt and debris, hard to clean and will lose reflective properties over time. They're expensive to purchase and once applied you must maintain the application with the same silicone product so that it can stick to itself. Silicone is highly resistant to adhering to other roofing products. It can also be messy to apply and hard to repair or remove.
Elastomeric Roof Coatings are better for the environment, better for your budget, and they're easier to use! You don't have to hire a team of professionals every time you need to seal or recoat your roof. Simply contact our team of experts, purchase the right coating product for your specific needs, and you can coat your roof yourself. You can apply these coatings by rolling, brushing, or spraying the product with a commercial sprayer and it can be used on all types of roofs and surfaces.
Over time silicone can be prone to retract or curl from the edges of the roof therefore, exposing areas that are no longer protected. Solvent or oil base products, such as tar roof coatings, can work in a pinch if the surface is wet or damp and/or the weather is below freezing.
Tar can take up to six months for a full cure. Once fully cured you can experience the tar to be dry and brittle. Tar tends to crack and split, and you are right back where you're at for potential leaks and problems. Tar will have to be maintained more often to refresh the area and keep water out.
Acrylic elastomer coatings are easier to install, but they're also easier to care for over time. You can clean elastomer roof coatings simply by spraying water over the surface. The rain might even do a bit of this for you. Stop buying detergents and treatments and make your next roofing material one of the AMES family of elastomer roof coatings.